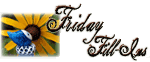 It's my # 1 entry for Friday Fill-Ins. I bumped into this friday meme early this week and note the link so that I can join today. And here are my fill-ins. 🙂
1. Birthdays are special to me. Even if no one remembers I will always consider it special coz it is a form of blessing from God – birthdays mean anotherh year into one's life.
2. Christmas is my favorite season because love is shared more during this season.
3. I feel my best when every member of the family is at home and happy to be together (no pretenses) and also i feel best when am thought of even in my lowest points when i feel like am the only one having a hard time.
4. Anything pasta and chocolate is my favorite food!
5. First impressions are important but it does not really matter if i will get to know the person better.
6. The best piece of advice I ever received was I can make it through the hardship of my single parenting.
7. And as for the weekend, tonight I'm looking forward to attend vespers (bt as of this posting i decided not to anymore), tomorrow my plans include going to church in the morning and Sunday, I want to watch a movie and i think there is also the PTA i need to attend!