In two weeks time, me and twelve others will be off to Kuala Lumpur, Malaysia with a sidetrip to Penang, Malaysia.  As the day comes nearer, it gives me excitement at the same time worried.  Traveling always excites me thinking of the unexpected and expected adventures that we will be meeting along the way.  Worried too in the sense that I really do not have money this time for allowance.  I dunno how will I manage it but somehow something will come up soon.
This morning, while resting with a aching tummy, I thought of browsing through my Malaysian postcards.  I have more than a few and then it gave me an idea on what places should I go to see while in Kuala Lumpur and in Penang.  The Penang trip will just be a one day trip – we arrived late evening and the next day after lunch, we will be traveling back to Kuala Lumpur.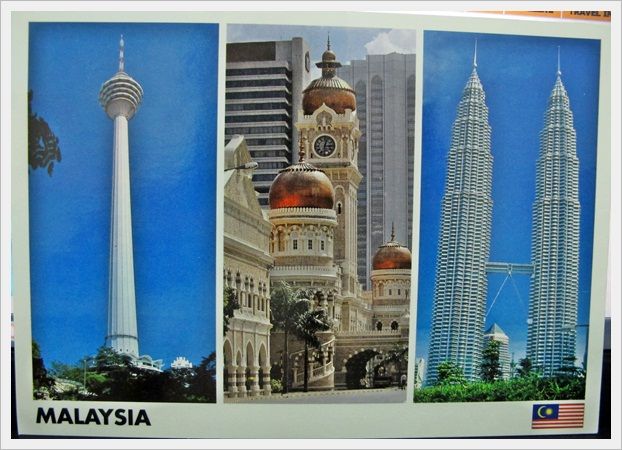 There are three prominent buildings I want to see in KL and that will be The Petronas Towers, the KL  Tower, and the Sultan Abdul Samad Building.  I read that there are several types of architecture in Malaysia and that includes the modern types and the Neo Moorish types.  The thought of seeing Neo Moorish types really excites me and I hope it is not that far to be walked from Fernloft the Independent Square.
Penang will just be a sidetrip but I also hope we can visit a couple of sites aside from Penang Adventist Hospital. The thought that Penang is a Heritage city and the place where we booked our hotel is a UNESCO site makes me dreaming of the trip even while at work. lol!  This trip is a wish come true for me because several years ago, a friend went on an Asian cruise and one of the stop over is in Malaysia.    This trip may not be like hers (cruise) but still I am flying to Malaysia.  I will just reserve my dream cruise to one of the affordable Pacific cruises that is being offered by travel agencies here.  I know that an Ocean Cruise will not be as easy as Asian cruises but I want to take a challenge on myself financially.  Stop overs were some of my dream places and I know I need to have visas in most of these stops – but I believe that I can make it.
It is not just me who is dreaming of  a Ocean Cruise.  My friends who loves to travel also dreams of touring the world and to do it deliberately is by taking major Ocean cruises.  But first.  I wanna do this KL-Penang, Malaysia trip and start saving for Cruise to be done in few years time. If you may check out their site, they now have great offers for 2013.  Start planning and decide on it to avail big discounts. You can book online packages now that includes flights. That is then less hassle for you.  It's just a one stop shop booking then!
Cheers to more vacations for everyone!