Spirit of Christmas is now officially in the air.   I know that when "ber" comes (months that ends with "ber") Christmas spirit is unofficially in the air, but beginning past midnight, it's now official.
The Christmas tree @ Gaisano Mall
With the news of the upcoming big typhoon Pablo, I feel somewhat not so merry.  Nakakastress ang mga balita.  The warnings I read makes me scared and I kept thinking of so many things that needs to be done.    When Sendong hit us last year, the water at home was on knee level only but it was already a scary experience for us because our house is only on one floor.  We don't have any elevated part except for the sink and our dinner table.  So when you see water pouring in so fast and the water contained in the house rose higher and higher and you see your family on top of the sofa set and nowhere to go, your adrenaline really rose high that you can carry anything heavy towards a higher place.  I can still hear my mom pleading to God to save us.  I can laugh at the thought of it but obviously she was scared.
I don't like that to happen again in the coming days.  They predicted that the size of the cyclone is bigger than Sendong so we must braze ourselves.  So I sent an sms to my neighbor if she can reserve me a room in the third floor in case we will be flooded.  She answered yes.  But when I arrived from the grocery, my mom told me that we will go to the first door of this apartment in case water comes.  Ahhh so I remember, the first door (we are in the third door now) has been renovated and the ground elevated plus a second floor was built.  So we are going there.  I told her about the reservation but she said, it's a bit far compared to our neighboring apartment.
Last night, I thought of going to Tangub City to witness the opening of their Christmas Symbols.  So I tried asking some friends if they like to go with me.  At 12 today, there was none that confirmed so I thought I would go alone.  But the intensity of wind at noon today made me scared because I am going to cross the seas from Mukas to Ozamis — I have so many wild and scary imaginations so I backed out from my own plan.  Better luck next year, Tangub!
The best thing I needed to do today at sunset was doing the grocery.  We don't have rice enough to last three days in case worst will happen tonight.  I need to add some more candles and we don't have matches.  I was a bit alarmed when Gaisano grocery section ran out of stock of matches.  Good thing the tiange in our neighborhood still have some boxes left.
These are what I bought today: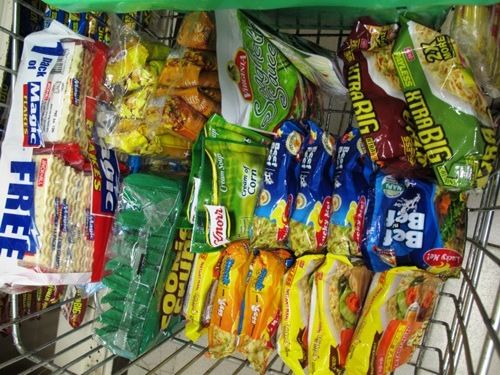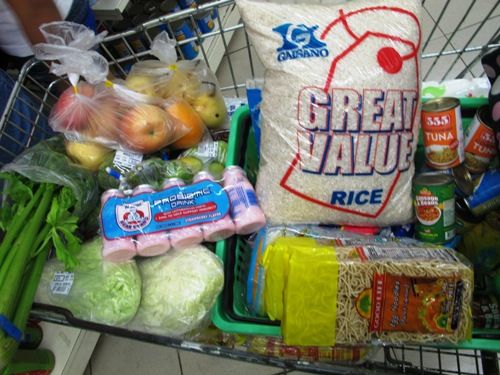 I did not go shopping because a typhoon is coming up. It is really my schedule to do the grocery since it is a day after the payday.  As usual I have a negative balance in my statement.  I only received my food allowance.  So all these stuff cost me almost 2K and the remaining 2 K will be used in paying the electric bill and internet bill.  I know there is another bill to be settled, the telephone bill but I guess it can wait until the middle of the month.
If you look closely at the photos, you can see I bought some biscuits.  I don't normally buy them, but this time, in case, we will be flooded, at least we got that.  I also bought almost a dozen of can goods – they are reserved for the worst weather.  I am praying to God that somehow our Christmas this year will be merry for everyone especially those who were hit hard by the Sendong last year.
My earnings on the side is not as much as it was last year, but at least there are few dollars coming in.  It is my first time to make a withdrawal transaction for the past 2 months.  Se in crises, dollar exchange in Paypal is so bad, so I really will not receive  much but it will be able to help me pay some bills.  I am praying that somehow a bonus will be given aside from the 13th month pay so that I can buy my daughter what she wishes for her birthday.
Tomorrow is Sunday, December 2, I plan to go to the market and buy more rice and maybe some more fruits and vegetables.  I am missing my girly. Sigh.
Happy Christmas to everyone!