Some of my HS classmates planned for an evening get together at a place in Cagayan de Oro. It was a Saturday evening in December.  I promised to be there though I did not expect that it would also be the time when me and my daughter will be sailing to Cebu City.  And oh it was indeed the time. Luckily, the trip was at 11:30 in the evening so we arrived at the venue around 7 o'clock and stayed for almost two hours.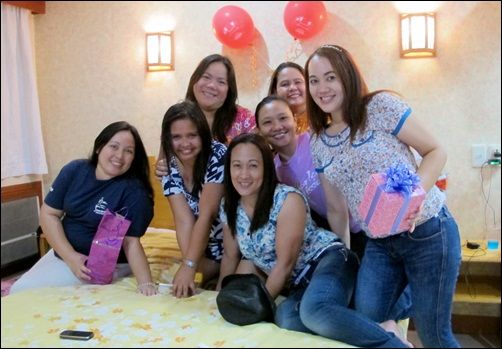 This is us during the exchaning of gifts. Some guys were downstairs but since they did not join the exchanging fun, so it was only us girls upstairs.  That is me, lovely, lucille, joan (standing), ladelle, miriam, and ana cristina.
Prior to this photo taking, some of us were watching TV while the others were busy talking to each other downstairs with their drinks.  Since I don't drink and the neighbor apartment is so noisy, I just ducked in this room to watch TV.  Good thing the TV was nicely placed because of the corner tv stand designed for it. It made me realized that I could also use the same stand when the wall shelf I am planning to have will be materialized.