I really dunno what woke me up earlier at 3AM.  That's what my cp says, 3AM and my cp is 15-20 minutes advance. Huh I just can't really go back to sleep so I went online.  First site to log on was Facebook and then checked my email.  Nothing much in Facebook and then in the email, a DA contacted me for the change of the dofollow to nofollow.  Done it and she thanked me.  I thought she gonna pay me $2 for it as what she told me yesterday.  I think she forgot and I don't like to remind her.  It made me think that she earned more from that link compared to the amount she paid me.   If there is no PP notice at the end of the day, then maybe I will remind her or maybe removed the link.  As I always said before, a dollar is always a dollar. It does not matter if the exchange rate is just 39.50 or less but still that's a dollar so, I just welcome whatever blessings come my blogging way.
Now, it's 5:46 am, the lappy clock said. And this is the 4th post I am making.
I miss the time when there was still Kuro.ph and VirtualMVC.  I felt that in these two sites, the interaction was 24 hours a day.  In Facebook, in spite my more than a thousand friends, there are times that it is really quiet.  It makes me think that each one is just stalking each one.  Just reading posts and not interacting to it.  I missed the "his and the hellos" and the "what are you thinking at this moment" or the "what do you want to say" posts — in both sites. My online life started those years at both these sites — they kept me company and help me maintain my sanity by being alone in a foreign land.
Reminiscing ya…hehehe I can now laugh over the thought what I would do when I don't have internet connection.  I really go ballistic.  To keep me safe at home, the school really make sure to provide me the internet connection that I need especially in the last school I was teaching.  But in Shij, I experienced coming home at 2 or 3 am from the internet bar.  That was really crazy as I felt that my home was no longer my home anymore (hmmm reminds me to write a separate post about that incident)
Some past photos: (China Times)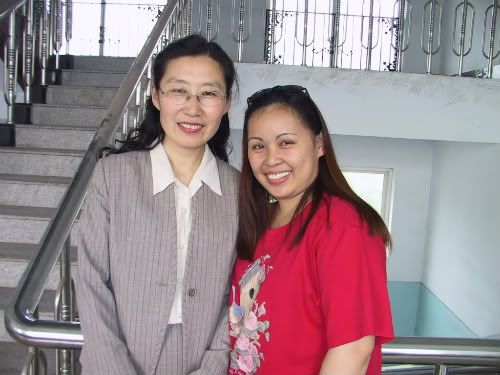 Me and Penny (my boss, English Department Head of Zhangjiakou Vocational College)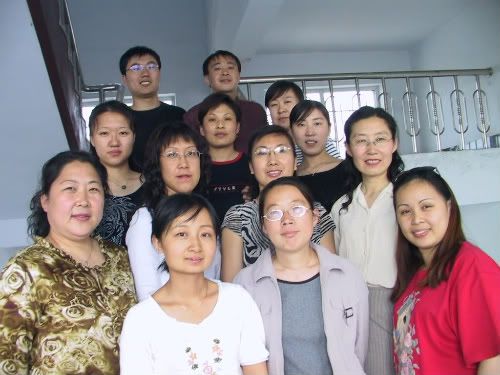 Me with the rest of the English Teachers (chinese)
My eyes are sunken and eyebags obvious because I was crying almost everyday. I was crying as the day to depart was coming closer. I was kind of missing everyone.
Spring is coming up in a couple of months  and I am missing Helen.  Here's us during Spring 2004 and 2005 @ the Pear Farm in Shijiazhuang City.
Spring Time 2004

Spring Time 2005