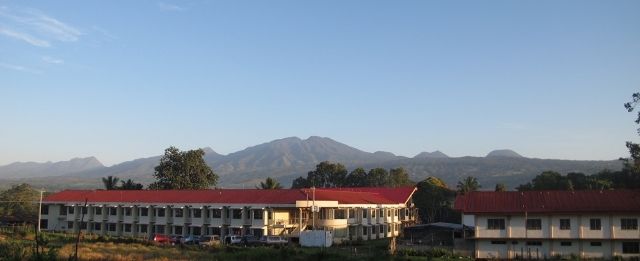 Few hours from now, we will be on the road again. Where to? Off to see this view again! I am so excited to have a glimpse of this mountain range again, and that is one of the reasons why I love going back there when there's a chance.
At the moment, the campus is filled with more or less thirty thousand or more and more will be expected when the weekend comes. The SPUC-wide Youth Congress event is currently going on there.  The thought of a hugeeeeee crowd does make me lazy to go but this one is work-related trip you know. So I am going.  This is not my first time to be in a congress (i've witnessed several during college days) so I have an idea on what will it be like when the campus is filled with people from all walks of life.
One thing to look forward to today is I am going to see my daughter.  She was there since Monday dawn and i'd like to see how she is doing.  Thanks to her Omi for sponsoring the fare and registration and allowance.  🙂 I am sure though she is having a grand time with her cousins.
This photo was taken a week ago during the 60th Anniversary Homecoming when I arrived that Wednesday morning.  Such a great view to see when you wake up in the morning.
I hope to make another update when I am back tomorrow afternoon.