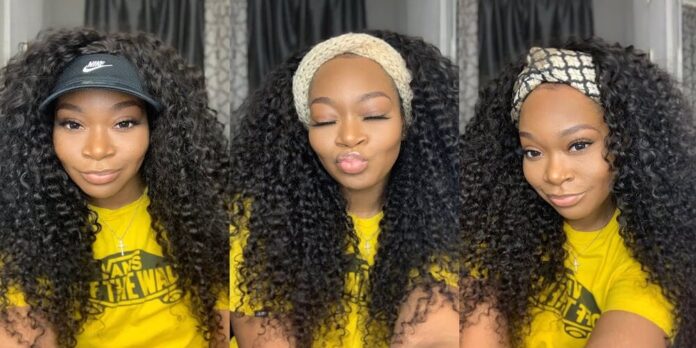 Wigs are cool and all. But this would not be the 21st century if we do not add our very own little tweak, right? Well, the uses and applications of a decent headband are diverse. In fact, a top-quality headband when worn be described in one word. Chic. As for the topic of whether a headband wig is essential, that will be thoroughly examined.
Depending on what a person wears, headband wigs could go a long way in bringing a style to life. When the headband wigs first came out, they took the social media atmosphere by storm. They were everywhere one could find a wig. From reels to stories and everything in between. Why headband are wigs so (for lack of a better word) in fashion?
What are Headband Wigs?
These are also referred to as headband half wigs. They are the everyday wig with a piece of material attached to the base of the wig. This piece of material serves as the headband.
These headband half wigs are pretty easy to rock. They offer a pretty convenient alternative to attachments and another complex hair styling. Even better they are perfect for newbies.
For those who are not exactly pros at using wigs, these headband wigs help. They are easier to use than the typical wigs. Headband wigs seem to be comfier.
The headband serves as a familiar element. Everyone has put on a headband at a point. So by being used in wigs, it is a familiar component of a new experience. This is especially vital for new wig wearers. It makes it so that the wig does not seem that out of place.
Benefits of the Headband Wigs
The most important benefit of the headband wig is that it has a more natural appeal. The lace element of wigs makes the wig seem off. This is especially so when worn by newbies. They find it more challenging to blend/ hide the lace.
But the headband wig does not require all those who are inconvenienced. All that is required is a well-slicked or braided down hair underneath the wig.
Additionally, it does not have much to wear properly. Just put it on and align the middle and one is ready to slay. This is another benefit of the headband wigs.
Also, they are not usually as much work or maintenance routine as the lace wigs. This makes them convenient for casual occasions. One could even put them on while indoors. We likely never do, but it can be done. They are quite low maintenance allowing one to slay whenever without putting in much work.
As for their cost, they are relatively cheap. At least when compared to human hair wigs (with lace), headband wigs are cheaper.
Conclusion
So, one could conclude that headband wigs are essential. It is not every time putting on the "good, expensive" wig is needed. So for that, "I am in a hurry but I want to slay" vibe, the headband wigs are essential. Get one today and enjoy relaxed slaying like never before.